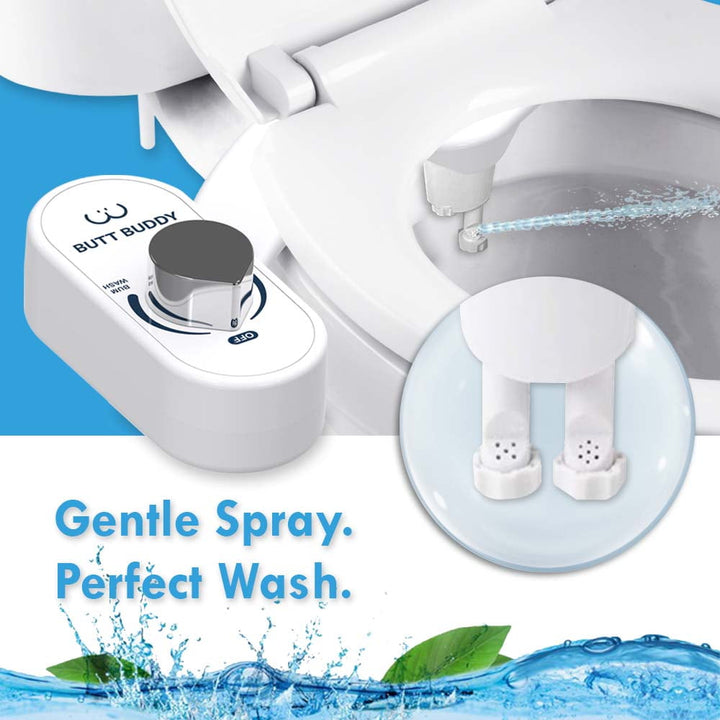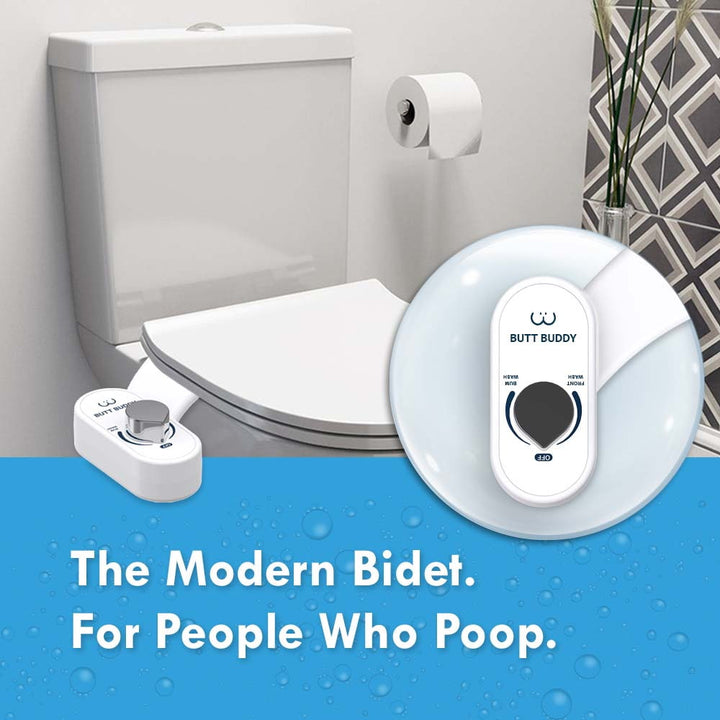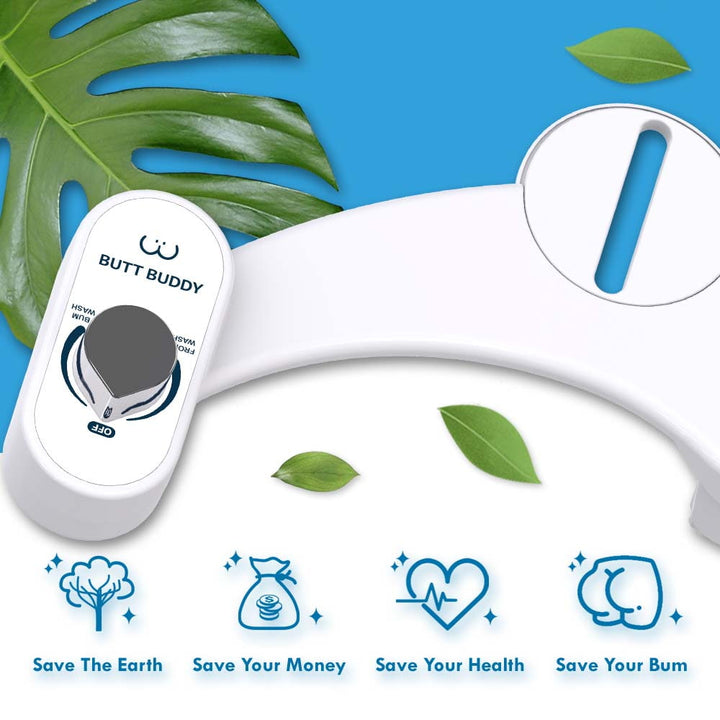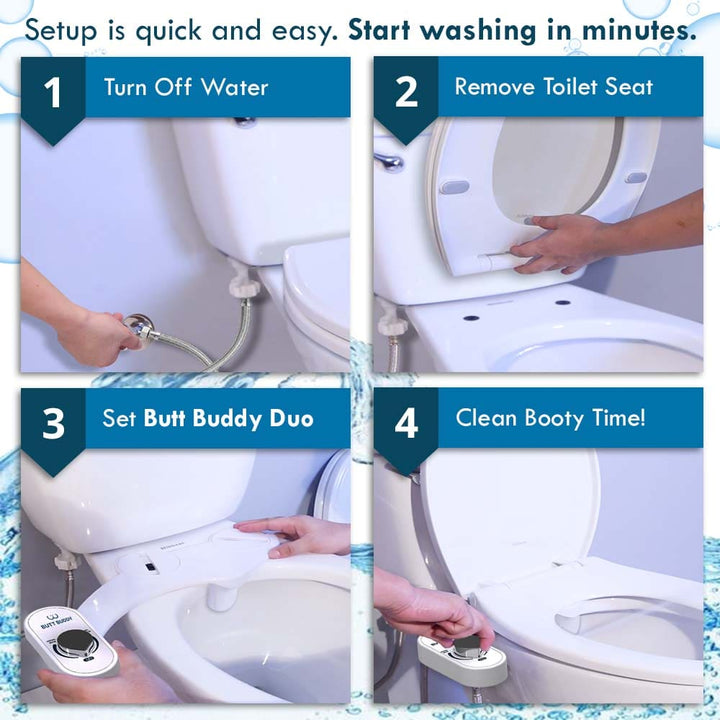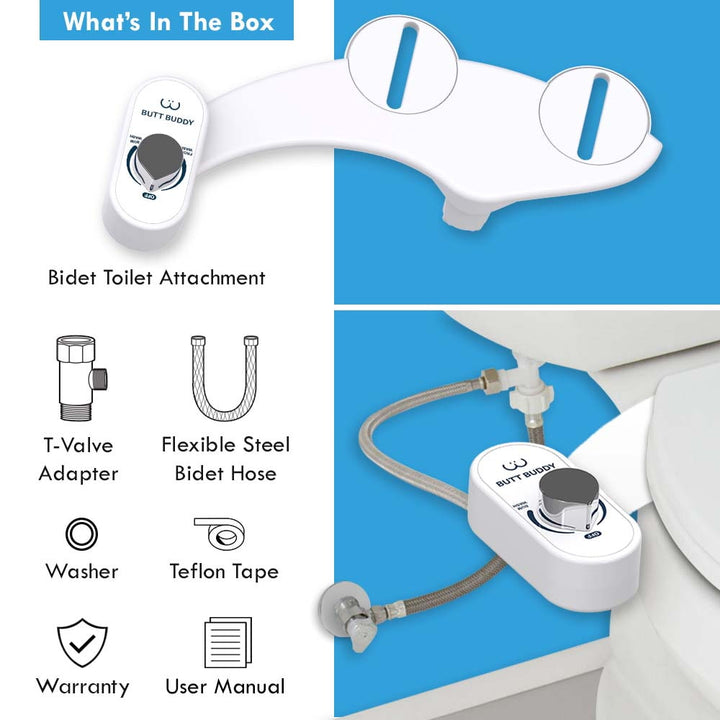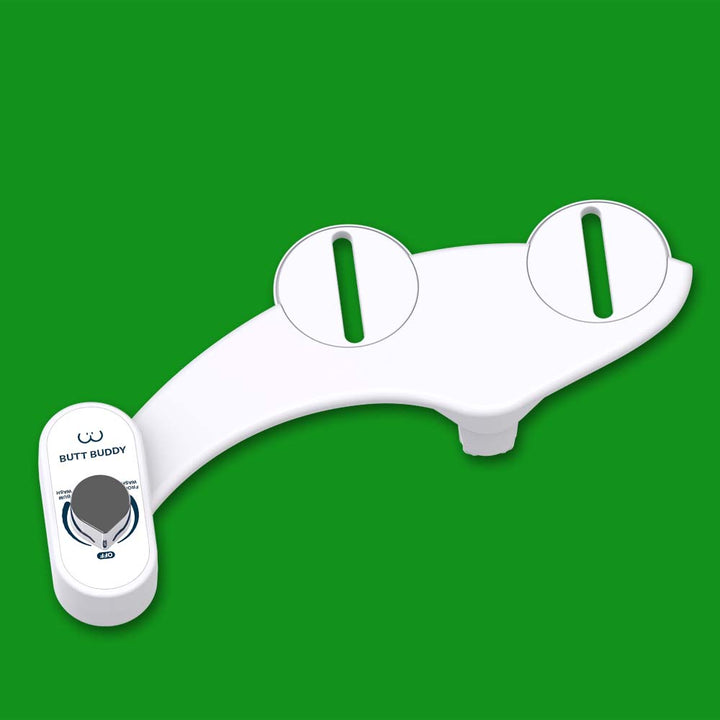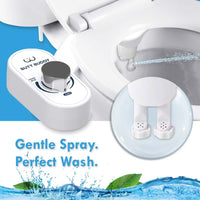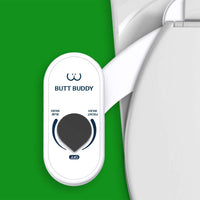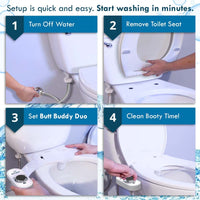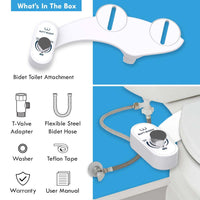 BUTT BUDDY Duo - Rear & Front Water Sprayer Bidet Toilet Attachment


#1 WAY TO GO #2 --- Stop wiping your booty with expensive toilet paper, start washing it with the BUTT BUDDY Duo bidet and save money right away.


SUPER SIMPLE SETUP --- Requiring no electricity, plumbing or special tools, BUTT BUDDY Duo is very easy to install and use.


FRONT & REAR WASH --- Featuring water-pressure control, dual-nozzle feminine wash, the BUTT BUDDY Duo bidet is a perfect addition to a healthier lifestyle.


UNIVERSAL FIT --- With a sleek, modern design, BUTT BUDDY Duo is made to fit every toilet and built to last.


U.S. STOCK & SUPPORT --- BUTT BUDDY Duo comes with a manufacturer warranty and satisfaction guaranteed. Try it risk-free!


Meet BUTT BUDDY Duo
BUTT BUDDY Duo is a state-of-the-art, fresh water bidet that easily attaches to your toilet and gently washes your booty after you poop or use the bathroom, that also provides a second nozzle for front feminine washing, transforming your health, hygiene and life with every spray.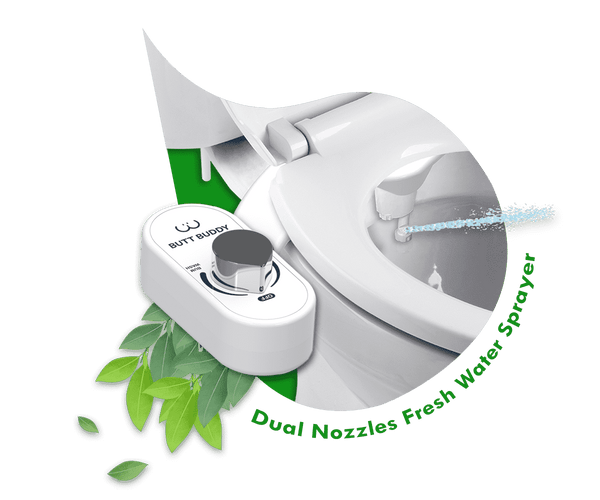 Features & Benefits


• Affordable, luxurious and therapeutic for all butts.


• Modern, slim design that fits any standard toilet.


• Elite, durable parts built to last and outperform.


• Easy to install and use instantly, anyone can do it.


• No special tools, plumbing or electricity required.


• Adjustable water pressure and direction of spray.


• Feminine nozzle for washing a woman's sacred area.


• Sanitary lifestyle, recommended by top doctors.


Easy to setup. Easy to use.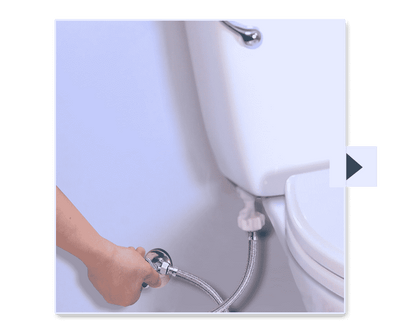 Turn Off Water
Remove Toilet Seat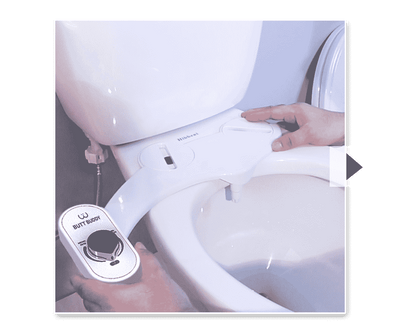 Set BUTT BUDDY Duo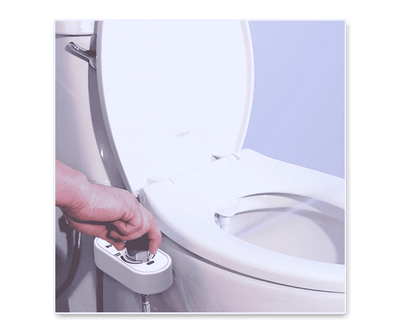 Clean Booty Time!
#1 way to go #2
Enjoy a clean, just showered feeling whenever you sit on the toilet and a pristine booty throughout the day - no more dirty stains, germs, infections or other bathroom worries. BUTT BUDDY Duo is quick to setup, easy to use and comes with everything you need to turn your toilet into a porcelain throne and you bathroom into a private spa oasis in minutes.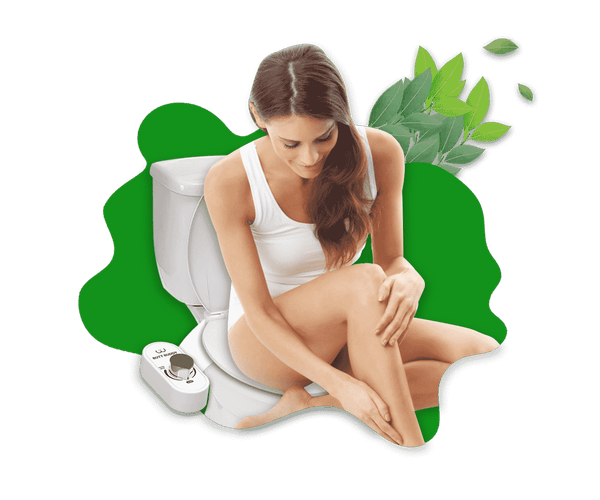 HELP DO GOOD, ONE POOP AT A TIME
SAVE YOUR BOOTY
Give your butt the gentle clean wash it deserves.
SAVE YOUR MONEY
Cut costs by spending less on toilet paper.

SAVE YOUR HEALTH
Prevent germs, infections and other health risks

SAVE THE EARTH
Help the environment every time you poop.
BUTT BUDDY Duo Functions



(1) Dual Nozzles Control & Water Pressure Knob



(2) Bidet Dual Nozzles Spray



(3) Adjustable Seat Plates


Introducing the Butt Buddy Duo Bidet
Experience a revolution in personal hygiene with the Butt Buddy Duo Bidet. This advanced bidet offers quick and easy installation, precise water pressure control, and adjustable duo backside and front feminine washing nozzle sprays for the ultimate in cleanliness and comfort. Say goodbye to traditional methods and embrace a cleaner, healthier lifestyle today.
Key Features:
Quick and Easy Installation: Transform your bathroom into a haven of cleanliness with effortless installation. No need for plumbing expertise; the Butt Buddy Duo Bidet is designed for user-friendly setup.
Water Pressure Control: Customize your cleansing experience with adjustable water pressure. From gentle to invigorating, the choice is yours, ensuring a refreshing cleanse every time.
Adjustable Duo Nozzle Sprays: Our bidet boasts two customizable nozzles—one for backside cleansing and another for front feminine washing. Enjoy precise control over the angle and position for a thorough, comfortable cleanse.
Promotes a Cleaner, Healthier Lifestyle: Bidets are synonymous with superior hygiene, and the Butt Buddy Duo Bidet takes it to the next level. Reduce environmental waste by using less toilet paper while experiencing a new standard of cleanliness.
For Everyone Who Poops: The Butt Buddy Duo Bidet is designed for universal use, accommodating individuals of all ages and backgrounds. No matter who you are, this bidet enhances hygiene and comfort for everyone.
Intended Use:
The Butt Buddy Duo Bidet is your gateway to an elevated bathroom experience. After using the toilet, simply activate the bidet to enjoy a refreshing cleanse. Adjust the water pressure and select the nozzle spray for backside or front feminine washing—tailor it to your preference for a personalized experience. Bid farewell to discomfort and irritation caused by traditional methods.
This bidet is suitable for every member of your household, from children to seniors. It's especially valuable for those with sensitive skin, mobility challenges, or medical conditions. Experience independence and dignity in the bathroom, knowing you have the Butt Buddy Duo Bidet by your side.
Upgrade your bathroom today with the Butt Buddy Duo Bidet and join the growing community of satisfied customers who prioritize cleanliness, comfort, and environmental responsibility. Bid farewell to outdated bathroom practices and embrace the convenience, cleanliness, and comfort that this bidet provides.
Satisfaction Guaranteed with our 30-Day Money-Back Guarantee.